Today we released a hot-fix update for the Moddern Millenaire Modpack.
With the hot-fix we removed the Wintercraft mod from the pack, which caused many issues and was not liked by the community. As the removal of the Wintercraft mod is the only change in the 2.2.2.2 update, we will not be forcing everybody to get the update.
How to get the update?
You can get the latest Modpack version, when you open the Technic Launcher, select the Moddern Millenaire pack and click on "Modpack Options" in there, simply select "Latest Version" or any version newer than 2.2.2.2 (see the picture below). Please note that upon loading your singleplayer worlds you will get a notification that all Wintercraft related blocks will be removed, you can just accept this but note if you used any item of the Wintercraft mod, it will be gone!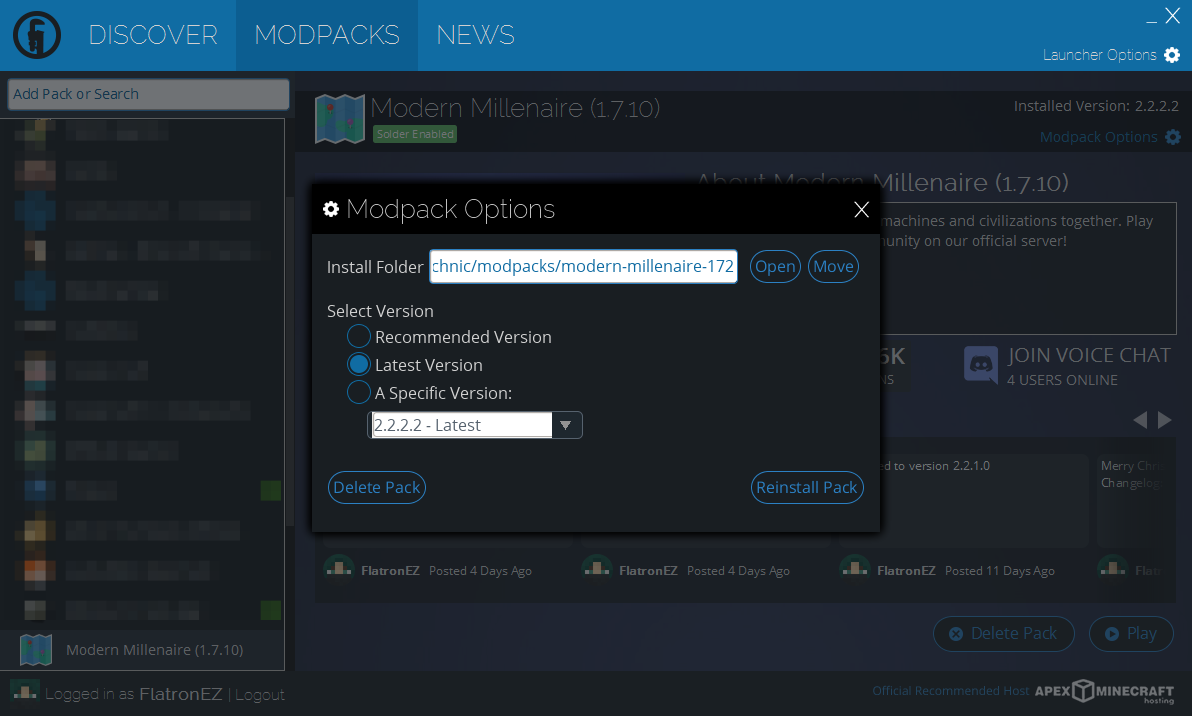 What problems were created by the Wintercraft mod?
Unfortunately the author of the Wintercraft mod did not put the necessary code into the mod to revert it's changes when the "snow in all biomes" option in the config file is turned off. The problem is that with the before mentioned option once turned on, all biomes in your singleplayer worlds as well as on the official server were changed to a temperature of 0° (Freezing point) as well as the "snow flag" for that biome was set to true.
Another issue was causing some lag upon world generation.
As these changes sound not that bad, there is no option in the Minecraft / Forge code (that we currently know off) to unset these changes. We are still developing on a mod that will revert the changes but up to this point we got no luck. We are already in contact with the original mod author and hope to get this fixed soon. We will keep you informed on this. If you like to help out with the coding or have a good idea, let us know in the comments!